EDUCATOR® TRAINERS
THE WORLD'S BEST E-COLLAR
Find Your E-Collar Remote Training Product
Our Most Popular Training Solutions
Save Now With Our Deals & Promotions!
TESTIMONIALS
E-Collar Remote Training Feedback & Results
ME-300 Micro Educator® Remote E-Collar
"Fantastic little trainer!"
Love the light weight receiver that when paired with comfort pads, can be used for virtually any small, medium, and even some more s… (read more)
by Page Potter
Easy Educator EZ-900 1/2 Mile Remote E-Collar
"Fantastic training aid"
Using this collar has transformed my relationship with my high prey drive dog. Before using the Easy Educator 900 series I could not… (read more)
by Jan Stone
STAY INFORMED
Helpful News, Information, & E-Collar Training Results
About Our Products Our advanced COS (control of stimulation) employed with all Educator products provide the owner the ability to finely tune the correct stimulation of their obedient collar for…
Customer Daenna Van Mulligen wrote a book about rehabilitating her highly fearful dog Jace @showmethexolo and also publicly speaks about training him with the ECT e-collar. She initially purchased the…
Please JOIN US in the fight against the e-collar bans in California and New York & SIGN THE PETITION today. Our humane e-collars have transformed dogs of all temperaments and…
The #1 Dog Training Collar & Bark Collars
An E-Collar is a remote dog training system that usually consists of a wireless remote and a wireless receiver. E-collars allow you to remotely send signals to your dog to help them understand "good behavior" and "bad behavior." The different E-collar models you can select from have functions that allow you to send either a tone, vibration, or a stimulating sensation to the dog.
Why are E-Collars Better for Your Dog?
Unlike most traditional "shock collars" our E-Collars use a form of stimulus that targets the neck muscles of the dog. With stimulation levels ranging from 1 to 100, our E-Collars allow you to adjust the stimulation to a level that is best suited to gently communicate with your dog. This "best level" can be locked to prevent over-stimulation and easily adjusted for a higher distraction environment when necessary.
This level of control gives our electronic dog collars the clear advantage. The choice is clear: When it comes to getting the best dog collar for training your dog, without applying too much stimulus, then an E-Collar Remote Dog Trainer is the choice for you!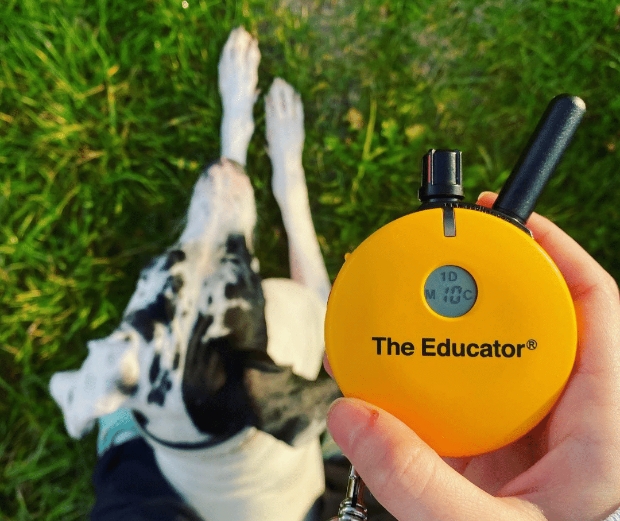 Are You Considering Which Dog Training Collar is Best?
The size of dog
E-collars for small dogs are different than big dog E-collars
The dog training collar range
Hunting dog collars and working dog collars typically need a longer range than a pet training collar for average yards
Do you need bark collar functionality?
No, bark collars differ from remote dog trainers.
Do you need waterproofing and shock resistance?
Don't worry, all of our dog training collars are shock resistant (up to 5000 G-force) and water resistant (up to 500' below sea level).
How many dogs are you training?
Some dog training collars feature multiple receivers, so you don't need to carry additional remotes.
Simply put, our superior construction, durability and features make E-Collar Technologies' Products the best dog collars available on the market today.
Shock Collars vs. E-Collars
The term "shock collars" for some, has a negative connotation. Many people incorrectly assume that shock collars cause physical harm or lasting damage to a dog as a form of punishment. This couldn't be farther from the truth. Electric collars are designed to get your dog's attention, not as a form of punishment.
When used in combination with positive reinforcement, E-collars provide the feedback that dogs need to learn when to pay attention to the handler. E-collars do not burn or cause lasting damage to a dog. Our educational videos and guides can help to dispel some of the myths associated with dog shock collars.